Knotts Island Hunting
Shared Through the Generations

Hidden away in the Outer Banks of North Carolina about 2 miles below the Virginia border on the Currituck Sound is a place called Knotts Island!  For the people that are from there its called home, for the people that come there to Duck hunt its called Heaven! A place like no other where people are simple and life is about family and friends.  The older generation go to the store, the only store, and drink coffee and talk about Duck Hunting and whatever else there is in the world. For generations this place has produced duck hunters of all shapes and sizes, and of all ages!  As a boy I can remember going hunting with my Dad when there were so many Ducks we would limit out before we ate breakfast and would sit and watch ducks for an hour until my eagerness to do the thing I loved drove my dad crazy because at the time I didn't understand why we had to stop shooting!!  When you take a boat from the landing and you look out at the best sunrise on earth, you see a duck blind every 500 yards.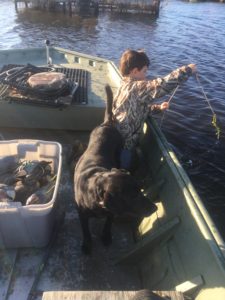 Most of the time, those blinds are surrounded by decoys and filled with hunters of all ages.  My dad, Cliff Scott, taught me at an early age that duck hunting was part of life!  He taught me the importance of being in the blind and what it meant to be a duck hunter.  My brother, Reid Scott and I would have to name the duck as it was flying before we could shoot it, so we would know what to kill and what not to kill.  Some of the most memorable times in my life were in that blind with my brother and my dad, as he taught us about hunting and about life!  Still to this day I am able to cherish those times only now it means even more…
Hunting with my dad now is very special to me for the simple fact that I now have a 7 year old son, Landon Scott, that gets to enjoy the time in the blind.  My brother has 2 children, Taylor Scott and Trey Scott, who get to enjoy some of the same stories their grandad used to tell us when we were kids. Landon is not usually one to wake right up in the morning, but the words, "you want to go hunting?" wakes him right up!!  Landon recently went hunting with his grandad and he was taught to throw decoys out and how the formation of the decoys would lure the ducks in close enough to get a shot.  He was also taught blind etiquette and how to sit still while waiting for the ducks to come.  There was also plenty of laughter because he and grandad are just alike and a smile is just part of life for them both.  I am typing this letter today to tell you how lucky I am to have a father that taught me to hunt at an early age and how lucky I am that he is now teaching MY SON the same passion I have for the sport of duck hunting.  It makes me very happy to have the opportunity to hunt with my dad and my son and see the impact his grandad is having on his life!
Thank you DAD for everything you have taught me and for the way you are teaching Landon the art of Duck hunting and we are so lucky to have Knotts Island to call our home and our DUCK HEAVEN!
Cory Scott