NCDU Leadership Camp 2017
NCDU hosted the second annual Varsity Youth Leadership Camp, in Columbia NC, on March 31st-April 2nd.  The camp was held at the Eastern 4-H Conference Center, and had twenty-nine varsity leaders from five chapters in attendance.  Over the course of the weekend varsity members learned about DU's history, and DU's conservation of wetlands both in North Carolina and throughout the nation.  The participants were given the opportunity to engage with staff and volunteers from NC Wildlife Resources Commission, NC State University, East Carolina University and senior state DU leadership.  During the weekend the participants were given the chance to work with adult volunteers and staff to shape underwriting plans, plan their fundraising event for next year, and learn more about waterfowl hunting and its heritage.
On Saturday morning NCWRC staff provided a wing shooting class, which allowed participants to improve their wing shooting and experience shooting from layout blinds.  When asked about the experience Caleb Lambert, from Rocky Mount Academy said "The shooting was enjoyable, and made us more engaged in the rest of the camp."  Those members that were not in the wing shooting course participated in a session with Jerry Talton, from the Core Sound Decoy Carvers guild.  Jerry taught the participants and advisors about decoy carving, and helped them to carve their own decoy.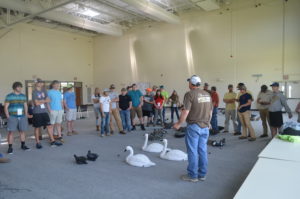 The Saturday afternoon session focused on sharing the successes of the NC State and East Carolina University chapters, and how the varsity chapters can apply their practices to their chapters.  NC State and East Carolina shared their experiences with recruiting, social media, underwriting, and sponsorship programs, which have been key to keeping both chapters in the Sweet Sixteen.  During the University panel discussion, each school explained how they had developed their programs, and what steps they had taken to ensure the continued success of the chapters.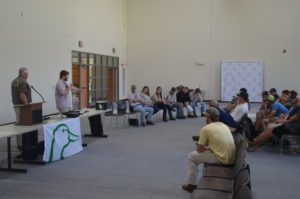 Jules Weston, from East Carolina, explained how his sponsorship/underwriting letter allowed him to secure over $1,000 in donations for his event.  Zach Pegram and Corbin Griffin from NC State, highlighted the chapter's sponsor thank you program.  Savannah Byrne, from ECU, spoke about the use of social media to spread DU's message on campus, gain donations, and promote their sponsors and underwriters.  She stressed that when using social media, you represent Ducks Unlimited and your post should reflect the organization in a positive manner.  Savannah told the attendees, "Post like your momma is going to read it, if your momma won't be happy about the post then don't post it." In addition to this advice she also spoke about the importance of how varsity members post hunting photos, stressing that posts of ducks that are respectful to the resource, and promote ethical hunting behavior.  Savannah's advice was "Make sure that your post doesn't make someone say 'Wow, that is not what DU stands for', because you are representing the organization and its mission."  This session was especially important for our younger members, who engage more with social media, so they understand how their use of social media reflects on DU.
Once they returned home, chapter advisers reported a renewed energy from the attendees that quickly spread to the rest of the chapter.   The new energy has resulted into spring events at several of the chapters, and has sparked planning for fall events.  One chapter Rocky Mount Academy has already begun planning their first dinner event this fall.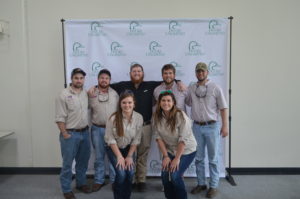 The NCDU Varsity Leadership camp would not have been possible without the generous support of The Eddie Jo Allison Smith Family Foundation Inc., Don and Linda Lassiter, Bob Barnhill, Rob Barnhill, Richard Budd, Bobby Rippy, Ed Clement, Paul Johnson, Jimmy & Beverly Moore, and Jay and Robin Taylor.  Thanks to these individuals North Carolina Ducks Unlimited could provide the camp this year at no cost to the attendees.  The support provided by these individuals will continue to provide the camp to North Carolina's Varsity DU for the foreseeable future, providing new leaders within NCDU.  NCDU with the support of our donors is leading the way in building the future leaders in waterfowl conservation, so that we can fill the skies with waterfowl today, tomorrow, and forever.